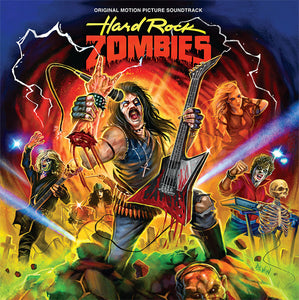 Hard Rock Zombies - Original Motion Picture Soundtrack
Lunaris Records is proud to unleash the remastered and expanded original soundtrack for the 1984 cult horror film Hard Rock Zombies. Featuring an eclectic mixture of album orientated rock, heavy metal ballads and dreamy eighties synth-scapes composed and performed by Paul Sabu.
STREET DATE: 08/10/2018
ON SALE: 07/31/2018 1 PM EST
Retail LP Package Details:
- Limited Edition Color Vinyl pressing of 300 (Transparent Midnight Blue With Black Swirls)
- Double sided insert featuring full color cover artwork and rare production stills
- Mastered for vinyl by Joel Grind
- Artwork by Devon Whitehead
Test Pressing LP Package Details:
- Black Vinyl test pressing of 25 with hand stamped test pressing labels.
- 3 color screen-printed custom cover on French Lemon Drop stock with #'d obi strip.
- Includes production jacket & Insert with artwork by Devon Whitehead
- Mastered for vinyl by Joel Grind
Cassette Details:
- Limited Edition of 50 
- 4-panel color J-Card
- Silver shell with black imprint


Track Listing
Side A
01 Angel's First Victim
02 Shake It Out
03 Cassie's Warning
04 Cassie
05 Death Montage
06 It Don't Come Easy
07 Raise The Dead

Side B
01 Zombies Revenge
02 Cassie's Theme
03 Angel's Trophy Room
04 Street Angel (Mark Of The Devil)
05 Midget Gets The Beef
06 Bucky Dines In
07 Arnold's Picnic
08 Matson's Last Deal
09 Zombies Lure Ghouls
10 Morte Ascendre
11 Hitler's Gas Chamber
12 Zombies Reprise
13 Angel's First Victim (Alternate)
14 Shake It Out (Alternate)

Digital download is not included.

Check out our soundcloud for samples: https://soundcloud.com/lunarisrecords/sets/hard-rock-zombies-ost
Stores contact LightInTheAttic.net for distributed copies.
---